Art and Activism in the Age of Globalization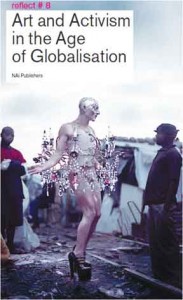 Art and Activism in the Age of Globalization, Lieven de Cauter, Ruben de Roo & Karel Vanhaesebrouck (eds.) Rotterdam: NAi Publishers, 2011. 334 pages. ISBN 9789056627799
By Carla Acevedo-Yates
Has subversion become outdated? Has political art become conformist under the guise of criticality? With the proliferation of committed or socially engaged art practices, currently featured and supported by notable public and private institutions, come many questions regarding its impact and ultimate goals. Whom are these practices serving and who reaps their long-term benefits, if any?
It's difficult to avoid thinking that political art has become another modality serving the capitalist market, but how can we make a shift to practices that are socially engaged without falling into the same capitalist ideals these practices condemn? Gathering a selection of 31 essays by a group of critics and writers, Art and Activism in the Age of Globalization calls for a new type of subversion, a subversivity that pleads for "temporary disruptions of states of affairs" and not revolutionary stances. Through theoretical essays, case studies and activist narratives, it examines the thorny relationship between art and activism in a globalized, post-Fordist, post-9/11 society. This is a relevant approach considering the ways political and activist art have reached a point of over-saturation and at times redundancy.
Starting with two brief prologues that describe the editor's intentions, this publication attempts to bring to the table a much-needed discussion about the state of contemporary art today in relation to social practices. Since the inception of the subversive art practices of the 1960s developed under political repression-"Tucumán Arde" in Argentina comes to mind-there is a growing concern with the social, political and economic impact of art that is defined as "socially engaged." Its inherent contradictions are apparent, as these practices are seemingly critical of capitalism but are funded and developed by "the system."
Art and Activism in the Age of Globalization is an interdisciplinary reflection about this very problematic issue through thoughtful essays that range from theoretical manifestos to critical assessments. But the book doesn't limit itself to presenting solely a theoretical framework to discuss these practices, it also offers case studies in contemporary art that, according to its writers, succeed in developing works that create "disruptive spaces" without falling into empty rhetoric or ideological tendencies. A case in point, discussed in an essay by Ruben de Roo, is the film Enjoy Poverty by Dutch artist Renzo Martens. Dismissed by some as an opportunist and exploitative film, de Roo argues that it is precisely the disturbing and unethical nature of the film and its capacity to produce unease in the viewer that affords it its subversivity. Other case studies include essays about the work of Steven Cohen and Christoph Schlingensief. Shifting back to theory, the book also contains essays that provide theoretical frameworks to develop meaningful activist practices: "Online Activism as a Participatory Form of Storytelling" by Marco Deserris, "The New Activism: A New Plea for Affirmative Ethics" by Rosi Braidotti and "Recapturing Subversion: Some Twisted Rules for the Culture Game" by Brian Holmes.
Concluding with the editor's remark to "Burn this Book!," Art and Activism in the Age of Globalization offers no clear-cut solutions. On the contrary, it begs to continue to reconsider and question the motivations behind much of the political and activist art of today and its impact on society.
Carla Acevedo is an independent arts writer and curator based in Puerto Rico. She is managing editor and publisher for the online arts magazine DaWire.com.