The Biennial Reader: An Anthology on Large-Scale Perennial Exhibitions of Contemporary Art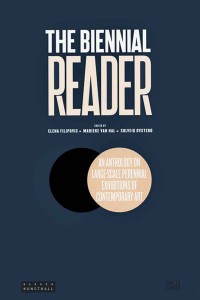 The Biennial Reader: An Anthology on Large-Scale Perennial Exhibitions of Contemporary Art. Edited by Elena Filipovic, Marieke Van Hal, and Solveig Øvstebo. Bergen: Bergen Kunsthall, Ostfildern: Hatje Cantz Verlag, 2010. 568 pages. ISBN 9783775726108
By Raisa Clavijo
This book is a result of the interest that the city of Bergen in Norway has in establishing a contemporary art biennial. To this end, instead of blindly following the caravans of biennials that have inundated the art scene, they chose to begin planning the biennial with a discussion forum on the pros and cons of this exhibition format. The Bergen Biennial Conference was held in September 2009; it was convened by the Bergen Kusnthall and organized by Solveig Øvstebo, Elena Filipovic, and Marieke Van Hall. Many renowned art critics, curators, artists, art historians, and academics attended this event to reflect on the history, practice, and potential of biennials, as well as other recurring exhibitions such as triennials and quadrennials, in the contemporary context.
The Biennial Reader is comprised of an anthology and a booklet. The latter compiles reports from Bergen Biennial Conference sessions convoked to address the dilemma "To Biennial or not to biennial?" This symposium attempted to rethink and analyze this exhibition model in depth in terms of three fundamental themes: the history of biennials, curatorial practices associated with these types of exhibitions in the current global context, and the future of biennials as platforms for the international exposure of artists.
The anthology, for its part, contains an extensive selection of essays compiled by the editors in an effort to gather together the bulk of the existing literature on this subject. The texts are divided into five topics: 1) Histories, precedents and origins; 2) What is a Biennial? Potential, Functions and Ideals; 3) The Curatorial; 4) Rethinking Biennials: Models and Formats; and 5) The Politics of a Global Art World.
Many of the essays included in this book are very well known, since they were previously published, and some of the ideas presented may appear obvious. Nevertheless, I will point out three texts that I consider significant. In the first, George Baker responds to Okwui Enwezor's intervention questioning the scope of biennials as mega-exhibitions, seen as an example of globalization, but which in turn function as exclusionary spaces. The second is the text of the Raqs Media Collective on the responsibility of the curator when structuring the discourse and the staging of a biennial. Lastly, of note is the essay of Maria Hlavajova in which she calls attention to the necessity of taking into consideration the specific circumstances of the local context when conceiving of an exhibition of this magnitude.
The Biennials Reader is required reading at a time when the biennial as an exhibition format has lost relevance and credibility, and we question whether it is anything more than a means of facilitating the propaganda associated with city branding, and promoting tourism and investments. This book should be considered a compendium of diverse points of view on the subject; it is a book that generates more questions and controversy than answers.