Pia MYrvoLD: Dialogues Across Media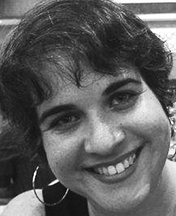 Paris-based artist Pia MYrvoLD started her professional career in the 1980s in her native Norway, and along the way, she broadened her artistic practice to include different media and disciplines. It was in Paris in the 1990s that she began making a name for herself while working closely with architect Bernard Tschumi to create a project at Parc de la Villette that involved architecture, design and urban planning as well as social and cultural interaction. She then was active in the Paris fashion scene for more than a decade while developing a broad spectrum of collections that mixed fashion with new technologies.
MYrvoLD is a pioneer in the exploration of the use of computer tools and digital interfaces as a new art medium. Her works invite the public to penetrate and participate in immersive environments in which she combines performance, music, architecture, video art, digital technologies, the design of interfaces, the design of robotic sculpture and fashion design, among other media. She firmly believes in the role of the artist as a visionary, as a proactive force that generates social change and evolution on both mental and cultural levels.
MYrvoLD has exhibited her works at galleries and museums in Europe, Asia and North America and has been the subject of solo exhibitions at a number of prestigious cultural institutions, including Centre Georges Pompidou in Paris; Stenersen Museum in Oslo, Norway; Bergen Kunstmuseum in Bergen, Norway; and Vitenfabrikken (the Science Museum) in Sandnes, Norway. Last year, she was invited by The New York Times to lecture about her contribution as an innovator and pioneer in digital art at the conference "Art for Tomorrow" in Doha, Qatar.
In this conversation, on the occasion of her upcoming exhibition in Miami, she shared with ARTPULSE her philosophy of work, which encourages endless dialogues between artworks, artists, exhibition spaces and publics, as well as revealed details about many of her most remarkable professional projects.
By Raisa Clavijo
Raisa Clavijo - You started in the art world as a painter. During the first decade of your career you developed a vast body of pictorial works, but you have also worked in a wide spectrum of media, such as performance, experimental electronic music, design, video art, fashion design, architecture and urban planning. In the 1990s, during the advent of the Internet and the boom of digital technologies, you started exploring the possibilities of digital art. Tell me how your interest in new media arose. What did you find in the digital world that satisfied your creative needs and that brought together all of the talents of your multidisciplinary professional background?
Pia MYrvoLD - My interest in new media arose due the interdisciplinary work I had done. Interdisciplinarity was vastly rejected by the art world, at least in Norway, but I also found prevalent traces of conservative positions in Paris in the early 1990s. I did a large summer project in Parc de la Villette that was directly commissioned by architect Bernard Tschumi, who worked closely with important French philosophers such as Derrida and Foucault. The world of architecture had entered a new phase of planning and improving urban spaces and society throughout the material execution of projects that allowed the inclusion of sculptures with social connotations.
With the development of computer technologies and especially with the advent of the Internet, knowledge and information reached wider distribution. Additionally, these advances allowed plural approaches between disciplines. My first interactive interface was a web-based work, Dada Memory. In 1996, it was linked to my wearable art collection with the same name in which individual sound loops could be gathered randomly by the user to generate a creative and performative experience.
When I was invited by the Chambre Syndicale du Prêt-à-Porter des Couturiers et des Créateurs de Mode, in Paris, to have my own show, I used that opportunity to access the press and mass media to speak about fashion as an art medium. I introduced 16 collections during my time on the 'elite list' of French fashion designers.
Clothes as Publishing (1996) evolved quickly into cybercouture.com, and that art interface was a new kind of business model for art, fashion and what we referred to as 'insemination of ideas,' like I did in Osmoses. It is about adding information (substance) into the mix, to alter the whole. For 'insemination of ideas,' I mean a reference to the beliefs of deconstructionist philosophy. It proposes that it is possible to combine art and architecture with concepts and information embedded in the design, so it is possible to spread ideas in another way. At Parc de la Villette, it was a way to educate people from 80 different nationalities about high culture that was not accessible to them on a level as it was available for upper class Parisians, who begin art classes at The Louvre from the age of five.
Today it sounds logical. In fact, there are many services available due to the easy access to technological platforms and clever interface designs. Many of them are similar to the ideas I developed in my early works. However, I worked almost without budget. I also had to invent most of the techniques that linked the user's creative platform to the content of curated digital art exhibitions, and to create a banking system for payments was really hard in those days. So it was not sustainable for me, as an artist. I struggled to break even for each collection, with the evolving digital platforms, video content, music and performances that included the catwalk shows.
I tried to get investors, and to create a satellite system, in which production could be decentralized into remote areas so local communities could be involved in the creative knowledge production of each project and develop a sustainable local industry in which young people could learn and exchange knowledge with the best Paris-based fashion and design centers. In the end, I was not successful in finding a cultural match among potential investors.
R.C. - As you mentioned, you have explored the possibilities of fashion as an artistic medium since the early 1990s. Your first collection of fashion designs was called "In-formation." Tell me about the concept that united those works.
P.M. - This was in 1994, after finishing the Parc de la Villette project. Unexpectedly, the gallery world in Paris was largely opposed to this project and everything that was related to it from a philosophical perspective. I was not eager to go back to Norway, so I made a small collection of 16 garments that I exhibited at avant-garde boutiques. The collection was bought by Charivari in New York, so in three months I was on Fifth Avenue with a show, large press coverage and lots of attention. After I went back to Paris, I was invited by the Chambre Syndicale du Prêt-à-Porter des Couturiers et des Créateurs de Mode to have my own catwalk show.
I was asked to continue the first collection, so I split the show in three parts; the second collection was made from plastic bags from high and low cultural institutions in Paris, a kind of 'dériver map.'1 The third collection included clothes that had a geometric overlapping line system that represented the infrastructure in a microchip. I called that last part Internet Softwear. It represents the first step into thinking of the clothes not just as a vector but also a digital platform. To link these three collections, I called the show "In-Formation."
R.C. - What would be the steps of the creative process to design an interface applied to art? What parameters must that interface meet?
P.M. - What this entails is actually a new discipline. I am aware that when I create an art interface, the aesthetics and the ethics must work hand in hand and respond to co-authoring the intellectual property. The design must therefore entail the identity of the artist, while at the same time consider the identities of the users. And this is very exciting to me. After cybercouture, I have created many interfaces: Female Interface (2004), Explorations in Landscape (2007) and one of the most remarkable, ART AVATAR at Centre Pompidou in 2014. I created an interactive and immersive landscape in which the users could interact with my 'sculpture and paintings' through animated icons related to my forms. I created new, augmented and animated sculptures that visitors could see and interact with in a digital mirror. Using infrared light and a body tracking software, the public could interact with the form. The interaction additionally generated sound through the body movement.
The ART AVATAR exhibition series (the second just finished last August at the Science Museum in Sandnes, Norway) seeks to investigate the possibilities of new tools and parameters of learning through human interaction and body movements. Working with talents from Paris' digital art community, the project aims to be at the forefront of virtual interaction. Specifically, the 'virtual mirror' is a tool that links experiences in the virtual world to those of our real inner world. That is still the primary reason for why I work with technology.
R.C. - For decades, museums have dealt with the challenge of creating strategies to improve the quality of the visit experience and increase public participation. The public's interests have changed in the past 25 years, since now people are trained to live in a technological and interactive world. In your retrospective at the Stavanger Art Museum (2007), you created a link between the real and the virtual worlds. You proposed a different relation between the public, the work of art and the museum space since the spectator was no longer passive. In Explorations in Landscape, visitors were allowed to virtually enter the museum space and into Norwegian 19-century artist Lars Hertervig's landscape paintings to explore and modify them. It was a preamble for subsequent paintings and sculptures conceived as 3-D animated forms such as Transforming Venus (2012), Expandium (2013) and Stargate (2011), among other works. Are all these pieces randomly created depending on the interaction with the public? How have the works evolved technologically and conceptually according to this idea of favoring the participation of the public?
P.M. - I have always dialogued with the museums where I have exhibited, including Centre Pompidou, about how to involve visitors on a deeper level of participation and beyond the 'unilinear' format of communication. Many institutions and curators are not ready for this transition, from both the intellectual and technological perspective. Centre Pompidou's curator Boris Tissot has been working for the recruitment of future audiences and asked me to present an interactive project in 2004 (Female Interfaces) and in 2014 (ART AVATAR).
At the lecture I presented at The New York Times conference "Art for Tomorrow," I therefore stressed that my projects investigate new exchanges between museums, artists, artworks and the public. This challenge requires me to hire a professional staff to manage the public and to get the interfaces constantly updated. It was easier in my exhibition at the Science Museum, where curators are more habituated to look for ways to engage the public in the learning process.
Museums have scarce opportunities to develop entire immersive environments according to the goal and vision of the exhibition. They deal with many issues from financial, logistics and also legal aspects such as the issues I faced at Centre Pompidou about connectivity and privacy laws when using tracking sensors.
There is also a misconception about interfaces in the art world. They aren't appreciated as an artwork, but as a kind of pedagogical tool. I have received some criticism from other artists who think that the use of interfaces in art creation is less serious, especially if it involves children, young people or what they consider an uneducated public. This kind of elitist perspective of the art world often dismisses the education and training we have acquired through our technological devices. In the last 20 years, people have become tech savvy, they are habituated to use digital tools to make music, videos, blogs and share details of their life in social media networks. When such people enter an immersive and interactive space, they intuitively understand that they are allowed to play. At my exhibitions at Centre Pompidou, it was evident that the public wasn't too self-conscious but rather had fun at the environment.
The interface I created in 2007 that involved Lars Hertervig's work had records of 40 percent of participation. The public participated in the creation of A3 printouts, which they were allowed to take home. More than 10,000 visitors took part in this project, which was comprised of Hertervig's work, my 3-D virtual sculptures and their own signature.
R.C. - What do you mean by 'digital architecture?'
P.M. - In my 2011 production FLOW-a work in motion, I created an independent pavilion parallel to the official exhibition in the context of the Venice Biennale. It was my own platform to introduce my digital art to the international art world. Being the first and the only artist who presented a digital art exhibition in the context of that edition of the Venice Biennale, I found interest in perhaps 2 percent of the professional visitors to the event.
I presented Stargate, the first ring in an immersive tunnel project, consisting of a total of 11 rings and 77 screens, using digital mapping tools to create what I described as "the inside of a painting while it is being painted."  With FLOW-a work in motion, the process became increasingly interesting. The individual pieces, such as 3-D animated sculpture (Venus), can be moved around on all surfaces, as characters in a theater production, and the concept of a digital architecture emerged in my work. Then, I tried to convince the organizers of The New York Times' "Art for Tomorrow" conference to build a 360-degree environment around the conference and to project the entire conference content through textures, chromatics and inserts of presentations, with the timeline flowing from opening to end.
I also work to create such an interactive environment in building facades. In Oslo, I proposed a project for the architecture firm Element, in 2009. I created lighting schematics that worked with the movement of the users, which reflected on the facade in such a way that, for instance, the building itself could have a New Year's Eve celebration. I think this idea is best illustrated by the Empire State Building in New York, which keeps changing the combination of light at a rhythm within that urban setting.
R.C. - As you mentioned before, the project ART AVATAR (Centre Pompidou, November 2014 - March 2015, and Science Museum Vitenfabrikken, Norway, April - August 2017) was based on continuing to create a bridge between real and virtual worlds. What changes on a technical level took place between the first and second presentation?
P.M. - Last year there was a big improvement in the art and technology circuits, with a polarization between the enthusiasts of Virtual Reality and the ones who believe in Augmented Reality.
I have been reluctant to the isolation of the Virtual Reality user, so my ART AVATAR is a mixed reality, using both Virtual Reality and Augmented Reality, but basically we developed another interface where we could explore new realities. Exploring the virtual, without leaving the physical world. In my latest - script series - I identify this innovation as Extended Realities, as I believe it is our imaginative resources that are coming into full, through these immersive production tools.
R.C. - The results of ART AVATAR led you to create the projects WANDS, your first generation of smart sculptures, and the robotic installations HYBRID LOVE. You combined your experience as a painter, fashion designer, interface designer, electronic music composer, etc. How did your interest in the production of robotic sculptures arise? To what extent do these projects contribute to the tradition of kinetic art?
P.M. - I started producing a series of sculptures and paintings in 1988 by using computers and graphic image assembly that proposed combinations of codes, a Pollock drip code next to a Mondrian graphic code, with other art or visual references. I have worked on those series that in the 1990s also included the Internet, the multilateral navigational platforms and patterns that describe time through graphic or chromatic modulations.
After ART AVATAR (2014), I returned to the object with the technology available. I was able to make sensor-based surfaces, as it had been my proposal for over 20 years.
WANDS is a second generation of smart sculptures that can read movements and measure body mass, so they are able to detect how many people are in the room and can react accordingly to different sensorial responses. A lot of the potential of the technology is already used for surveillance and more mundane purposes. I am still interested in their creative potential as sculptural objects, but my skills are more about integrating software and hardware. When I launched WANDS in 2015 at Atelier Nord ANX in Oslo, I also did a project with three robotic arms that I dressed in haute couture. I had a limited budget, as always, and I used my skills as a designer to create crinoline structures around the joints of the robots.
R.C. - What is the philosophy that guides your artistic practice across this wide variety of media?
P.M. - When working with public participation in the early 1980s, especially through the theater group Chameleon Circus, I became aware of the risk of being a trend leader rather than proposing new art and developing my talent. So my art projects bridge these two interests. They give me a platform to explore my multidisciplinary talents, and equally, they engage the public in developing knowledge and research while using their own intuitive and creative skills.
I do not believe in rhetoric as much as I believe in motivation, the way to ignite or inspire people to see or to understand. In any case, we can never control or predict with certainty what someone will take from an artwork, as it is based on their perception and interpretation skills.
R.C. - You said at the "Art for Tomorrow" conference organized by The New York Times in Doha Qatar last March that it is important to explore how 3-D animations could evolve towards new forms of writing. Could you share with us how this objective is reflected in your work?
P.M. - When I created the first series of 13 animated sculptures for the FLOW project in Venice in 2011, I had already worked several years with virtual shapes, but the animation became a step into a kind of 'no man's land.' As the very idea of a sculpture that changes shapes adds a lot of complexity when thinking of a form, I organized each animation as loops, in order to move them into a continuous moving landscape that has its own natural cycles.
Also, I started to see meaning in each form. I linked the idea to early language, like hieroglyphics that is a visual language, but that have no time, present or future to link events, but rather, a concept by which combining more forms, new meanings would emerge. With Transforming Venus, I also linked my work to 30,000 years of art history in Europe, from the first Venus we know to this Venus of the digital age. Both are central to the desire to procreate and survive. The reality of today's Venus is different, as human beings can procreate with new resources, by manipulating DNA, renting a womb or ordering semen on the Internet. There is also cloning and the fusion of man and machine through biotechnology.
So to come back to your question, I think the brain can understand and process immersive environments like in Virtual Reality. The linear organization of language has been a need, but now we can transmit ideas in 3-D using animated forms to increase our communication skills.
R.C. - Which projects are you working on? In your presentation at The New York Times' conference, you spoke about SYN-ENERGIES, a sustainable project you developed in collaboration with the government of the region of Jæren in Norway. What does this project consist of?
P.M. - SYN-Energies is a holistic concept that builds on art but contemplates how art can instigate cultural and economic growth in a matrix. My region, Jæren, in Norway has a long history of innovation and an exceptional level of engineering and research related to the production of oil. Due to the exploration and harvesting of oil and gas in the North Sea, an extreme weather complex with constructions, robots, submarines and sensor grids the size of Los Angeles has been built 1,000 meters under the sea level.
With the oil crisis, during which 50,000 employees were laid off and many allied companies suffered, I thought about how my ideas could match up with this industry. I used my modest but growing international reputation and contact network. My goal was to create new revenue models to inspire creativity in this industry, but also in the educational sector and with a series of sculptures and installations that harvest energy through wind, water, solar and human interaction, to start a process of rethinking energy harvesting, which integrates aesthetics and art at the base of economic development and includes cultural tourism and the strengthening of the local identity.
I presented these concepts in the 2016 "Art for Tomorrow" conference and had immediate interest from Sheikha Mayassa in Qatar to develop Sun Trumpets. We worked for six months on the second presentation, but with Qatar being in a political conundrum, no further funding to develop the project was offered by them.
In Norway, the project was also halted, as the consensus in the politics of the regional governments, industry leaders and various partners I talked with are not able to root around the concept. I think basically that they do not believe in art, nor the potential for art to set off economic development.
R.C. - You recently had a solo exhibition at Galerie Lélia Mordoch in Paris. Which artworks did you present on that occasion? What artworks will you be presenting at the gallery in Miami this December?
P.M. - At Lélia's gallery, I presented works from 2010, starting with monoloops of the animated sculptures Un-Dress and Transforming Venus. The last was both the title of the exhibition and of the recently published monograph about my work. I will have the opportunity to present again the Transforming Venus monoloop in Miami this December.
I also exhibited the Coloss Island series that I started in 2014 for the Pompidou exhibition that included animated forms and textures, prints and wall sculptures. These will be on display at the Miami show in December, as well.
I included two WAND sculptures, Bio Myth and Trans Human, from the first generation of smart sculptures from 2015.
Additionally, I presented in Paris the #LightHackSculpture, Wonderland, 2016. I created a site-specific installation of these series, in which I integrated projectors to create small visual theaters as well as a drum set. The drum set was then activated at the performance Extended Realities during the FIAC week in Paris. I worked with a Japanese drummer, Emiko Ota, who performed in an improvised set where I wore a body suit and a #LightHackSculpture mask that made reference to the VR masks so visitors could witness the separation between this mask of the virtual experience and the body left behind in real space.
I will present the #LightHackSculpture series in Miami, working with local drummers who at intervals will activate the sculpture. These series are part of the -script series-, for which I just launched a Kickstarter campaign to ensure funding for research, as many of my projects are too early to reach the marketplace. My -script series- continue to explore future scenarios to match museums, performance and urban spaces with new technologies.
I am preparing a large exhibition for a festival in Oslo in the fall of 2018, where I will work in large scale and with advanced technologies such as digital mapping in a large industrial cylinder 180 meters in diameter.
Notes
1. See, Guy Debord. "Theory of the Dérive." Les Lèvres Nues #9 (November 1956).
Raisa Clavijo is the editor-in-chief of ARTPULSE. She is an art historian, critic and curator based in Miami. Clavijo has a B.A. in art history from the University of Havana and a master's degree in museum studies from the Universidad Iberoamericana in Mexico City. Former chief curator at Museo Arocena in Mexico (2002-2006), she founded Wynwood: The Art Magazine, in Miami, where she worked as editor from 2007 to 2009. In 2009, she founded ARTPULSE and ARTDISTRICTS magazines.