Kettle's Whistle. Bold Statement and Responsibility
By Michele Robecchi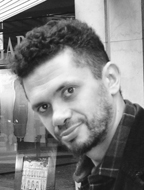 Ever since its first apparition in the middle of the 2000s, the work of Kelley Walker has seemingly courted controversy. His smearing with toothpaste and chocolate-cream enlarged magazine covers featuring African-American ladies or historical photographs of civil rights fights, it is not foolhardy to say, has generated one of the most divisive bodies of work the art world has seen in a long time. According to his supporters, what Walker is doing is revolutionary-a contemporary revisitation of socially and politically charged themes who successfully transcends racial issues to produce a result that, on top on everything else, has great aesthetical value. His detractors, by contrast, regard his efforts as fratty art at worse, and mere cultural appropriation at best-the kind of kitsch/gratuitously provocative nonsense that only a middle-class white boy could get away with.
The debate earned significant momentum in 2010 when a thinker of the caliber of Glenn Ligon voiced his opinion from the pages of Parkett. Ligon didn't fully enter into the visual merits of Walker's practice, but he expanded the intellectual boundaries of the discussion, first by claiming that images should not be considered exclusive domain of a specific demographic; secondly, by questioning why racial identity should be a factor in determining the legitimacy of an art work; and finally, by indicating that the critical silence on how race operates in Walker's art is a symptom of a much larger disease. "In Europe, the issue of race in [Walker's] work may be deemed as 'too American' to address, and in America it may be 'too black.' This silence is troubling [...] and part of the impact of his work is that it calls attention to very difficult and still unsettled questions about the politics of representation."
Ligon's authority on the subject was probably all Walker needed to settle the dispute around his work once and for all, but in the volatile climate that defines our current times, even the most brilliant view doesn't stick around for long without being challenged a second time, and disagreements over Walker's work reached a new height again on the occasion of "Direct Drive," his solo exhibition at the Contemporary Art Museum St. Louis last September.
In a city still burning from the Ferguson unrest (a memorial for Michael Brown was disrupted and local activist Darrell Seals was found fatally shot in his car only a week prior to Walker's opening), an exhibition displaying images of civil rights activists besmirched with food and paste predictably generated some serious head scratching. A public talk organized for the day after the opening with the artist and the curator of the show, Jeffrey Uslip, could have been a good opportunity to put everyone back on the same page, but this is where things exploded. Confronted by a tense room, Walker's and Uslip's performance fell way short of expectations. St. Louis-based artist Damon Davies' attempt to engage with Walker over his motivations was met with anger and frustration, questions weren't answered and the event was eventually curtailed to everybody's dissatisfaction. The next day, three black staff members of the museum, De Andrea Nichols, Lyndon Barrois Jr. and Victoria Donaldson, wrote a letter asking, amongst other things, for Uslip's resignation and the removal of the most insensitive art from the exhibition. The initial response of the concerned parties was, at first, diplomatic. Walker and his New York gallery, Paula Cooper, issued a joint apology, while CAM St. Louis director Lisa Melandri isolated Walker's contested work in paneled quarters with labels at the entrance warning about its potentially offensive qualities.
The following week, when a member of the museum was attacked at a gas station, things reached a point of no return. While Melandri reaffirmed the security of her staff as the museum's number one priority, Uslip announced his imminent move to a different institution-an event that, as the uneasy wording of the press release suggests, must have taken a lot of people by surprise, leaving CAM St. Louis with the task of fixing a battered reputation and rebuilding a relationship with a now deeply upset community.
With Walker's exhibition now coming to an end, it is too early to tell what effect this episode will have on the future of CAM, art in general or, more importantly, the ongoing debate about race and discrimination in America. If there is a lesson to be learned, however, it is that along with bold statement should come responsibility. Melandri's line of defense that the exhibition was conceived three years ago (subtext-one year before Ferguson) is the proverbial boomerang, as that means that CAM had at least 20 months to prepare for the inevitable controversy. As for Walker, he is quite right when he points out that his work should be given a chance to speak for itself; still, if he expects the argument around it to be exhausted due to seniority status and previous media coverage, he should probably refrain from participating in panel discussions. Similarly, if CAM St. Louis wants the freedom of producing challenging exhibitions granted, it should also grant audience members the right to express their concern at public events without dismissing them as troublemakers. Hopefully, rather than having knee-jerk reactions and going for the easy solution of showing "safer" art, fellow American art institutions' big takeaway from the whole experience will be to give more thought to how to stand by what they do and engage with the community they are supposed to serve and educate.
Michele Robecchi is a writer and curator based in London. A former managing editor of Flash Art (2001-2004) and senior editor at Contemporary Magazine (2005-2007), he is currently a visiting lecturer at Christie's Education and an editor at Phaidon Press, where he has edited monographs about Marina Abramović, Francis Alÿs, Jorge Pardo, Stephen Shore and Ai Weiwei.