Kettle's Whistle. Hardly the Way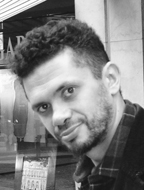 By Michele Robecchi
From 1972 to 1981, Jimmie Durham didn't show any art publicly. This wasn't due to inertia or lack of inspiration, but to an interest in activism that led him to enroll as a worker in the American Indian Movement (AIM), the Native American human and civil rights advocacy group founded in Minneapolis in 1968. Durham worked his way through its ranks, eventually becoming executive director of the International Indian Treaty Council and an appointed representative at the United Nations before an increasing sense of disillusionment over the direction AIM was taking prompted his resignation in 1980.
In the aftermath, Durham toyed with the idea of writing a book about his experience with the movement, but lack of funds and confidence resulted in a series of politically charged, text-imbued collages instead. When Juan Sánchez, a fellow artist with very strong political beliefs, saw them, he invited Durham to an exhibition he was organizing. Sánchez, then in his mid-20s, had missed, and as such came to idolize, the first wave of activism propelled by the AIM, the Black Panthers and the Young Lords. What he needed was a battle to fight, and he found one with the election of Ronald Reagan in 1981. Sánchez's exhibition, "Beyond Aesthetics: Art of Necessity by Artists of Conscience," opened four months after Reagan's Presidential Inauguration and generated great interest, acting as a precursor for subsequent ventures like Art Against Apartheid and "Artist's Call Against U.S. Intervention in Central America."
Durham was in favor of the spirit of the operation, but he was much less enthusiastic about the popularity the representation of his own struggles and that of Native American people had reached. This was, after all, a time in history when artists from so-called "minorities" were largely pigeonholed or patronized when not being ignored. Feeling exploited, Durham revised his approach to art and motivations and decided to resist the stereotypes associated with the image of the "Indian artist" by focusing on the large playing field provided by the advent of Post-Modernism. Anger was replaced with irony, and a great array of materials, mostly animal skulls and used car parts, were deployed to create pieces that challenged the notion of sculpture, Indian folk art artifacts and the way these are commonly perceived. Keen to explore the relationship between the native population of the Americas and objectual art further, in 1987 Durham left New York and moved to Mexico.
Three years later, the introduction of the 1990 Indian Arts and Crafts Act, de facto prohibiting the production and sale of anything falsely presented as Indian, was met with mixed responses. While many hailed the legislation as a landmark in protecting the interests of the Native American community, others felt that it unjustly penalized those without official tribal affiliation. In such a climate, questions about artists not formally recognized began to surface, and two spaces exclusively devoted to Indian art in Santa Fe and San Francisco canceled Durham's exhibitions from their program due to his lack of certification. This was somewhat ironic, as Susanne Rockwell noted in 1991, because "Indian artist" was a label Durham has never sought or desired in the first place. Durham himself gave statements to ARTnews and Art in America to the same effect. "I am not an 'Indian artist' in any sense. My work is simply contemporary art. My work does not speak for, about or even to Indian people."
After raging on for a while, the debate slowly went quiet. Artists like Fritz Scholder and Brad Kahlhamer continued to perpetuate their commercially successful images of Indians undisturbed, and even Nicole Klagsbrun, who officially represented Durham in the U.S., continued showing and selling his art all through the 1990s.
"At the Center of the World," Durham's recently open first American traveling retrospective, gave his work sufficient visibility to reignite the dispute. It is impossible not to sympathize with the sentiments of the Native American people. Their rights have been denied for far too long, and it's high time that American institutions, chief amongst them the Walker Art Center, start engaging actively and competently with the creative element of such a pillar in their community. The articles that have flooded the web over the past few months failed to offer mega-convincing evidence on Durham's fake Cherokee heritage (unless investigative work alarmingly resembling Donald Trump's wild turkey chase for Obama's birth certificate or affirmations like "he has not married in a Cherokee family or participate in Cherokee dances" constitute evidence). They do, however, say a lot about the disarray in which art criticism is today and the dangers of heading towards an age in which socially related art is allowed only when made by people with a direct affiliation with the subject.
Michele Robecchi is a writer and curator based in London. A former managing editor of Flash Art (2001-2004) and senior editor at Contemporary Magazine (2005-2007), he is currently a visiting lecturer at Christie's Education and an editor at Phaidon Press, where he has edited monographs about Marina Abramović, Francis Alÿs, Jorge Pardo, Stephen Shore and Ai Weiwei.